Spam/undesirable email/junk mail generally refers to an electronic communication sent to a large number of people without their consent.
This term was inspired by canned spiced ham (SPiced hAM) SPAM, marketed in 1937 by the American company Hormel Food Corporation. This product didn't necessarily have a good reputation in terms of quality and nutritional value, which is why this name was chosen to designate junk emails.
Forty years ago, Gary Thuerk sent an email to all users of ARPAnet (ancestor of the Internet) on the west coast of the United States, about 600 people. He just wanted to invite them to a demonstration and avoid writing a message to each user. He entered the 600 recipient addresses and sent his email. But the reactions were intense and contrasted. As a matter of course, the U.S. administration then condemned the practice as non-compliant. Involuntarily, the first spam was born.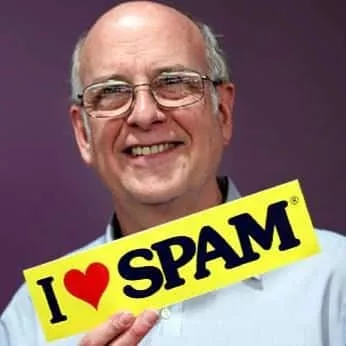 How is spam evolving?
In recent years, Internet Service Providers (ISPs) have been analysing how we interact with emails in order to further secure our email systems. They noticed that some words are recurrent in spam subjects. Consequently, they have identified them to create a list of words: spamwords. This list helps our inbox to filter out the productive emails from spam. Examples: "Rolex", "Viagra", "Urgent", "100% free", etc. 
Today, spam comes in many forms: advertising, false information, scams, malware, etc. Here are a few examples:
The advertising offer:
You receive spectacular promotions on products from major brands, specifically counterfeits… The most common are links to "free" offers that refer to forced subscriptions or the promise of a business model that would make you rich. The latter must be downloaded against payment and, not surprisingly, only the spammer gets rich.
The hoax:
It is often not dangerous, but causes you to pass on false information. Generally, you receive an email that asks you to forward it to as many people as possible. These messages may contain any kind of fake information: public health problem, rumours, virus alerts, computer security issues, government information, petitions, etc.
The site http://hoaxbuster.com makes it possible to be aware of the most widespread hoaxes.
Phishing:
A form of scam that involves adopting the identity of a known and recognised company on an email to encourage you to fill in your bank details or your confidential information.
SCAM (fraud 419/Nigerian scam):
A person tells you that they have a large amount of money and that they need to use your account to quickly transfer the money, in exchange for a percentage of the money. The transfer will obviously never take place.
Malware:
Buried in an email via links or attachments, viruses infiltrate your system: Trojan horse, spyware, etc. These programs steal your personal information, spread other viruses or disrupt the performance of your computer.
Finally, newsletters, surveys, automatic emails, promotional offers or junk emails in the broad sense pollute our inboxes on a daily basis. So maybe officially and by definition we don't consider them as spam, but we all agree that they are certainly not productive emails!
Who are the biggest spammers?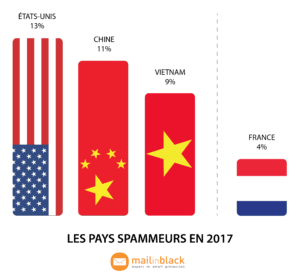 In 2017, the United States was the world's largest spam emitter, followed closely by China and Vietnam. Although only 4% of spam comes from France, the Hexagon was still in the top 10, placing eighth.
Source: study conducted by Mailinblack
How can we avoid receiving spam?
Apart from the fact that you should avoid publishing your email address on the net, and I know that this is impossible for a company, the spam often remains U-N-A-V-O-I-D-A-B-L-E.
So, for more than 10 years, Mailinblack has perfected its anti-spam solution on the IT security market for businesses. It uses a simple authentication request and proven techniques to protect against viruses, spam, newsletters and other junk email so only productive emails are received, FINALLY!
A real time-saver every day, since it means that you no longer have to check that an important email hasn't been lost among the many spam messages and especially to avoid any infection of your system.